Doral Charter is your trusted choice for party buses, charter buses & mini bus service in Doral Florida. We provide a wide range of services for all types of events and travel needs. Whether you are planning a wedding, corporate event, or a school trip, we have the right solution for you. Our team of professionals can help you plan the perfect trip with our great service and many vehicle options. Our minibuses are perfect for smaller groups while our motorcoaches are ideal for larger groups. We also offer charter bus rentals which can be customized to fit your needs. We offer full-size charter buses that are perfect for transporting people to events such as conventions, sporting events and concerts. Whether you need transportation to the airport or just across town, we have an option that will work best for your group! We know how important it is for your group to have fun on their trips so we offer a great selection of vehicles that will meet all budgets and needs! Our vehicles come equipped with comfortable seating areas and air conditioning so everyone can enjoy their trip in style!
Doral Charter Bus Company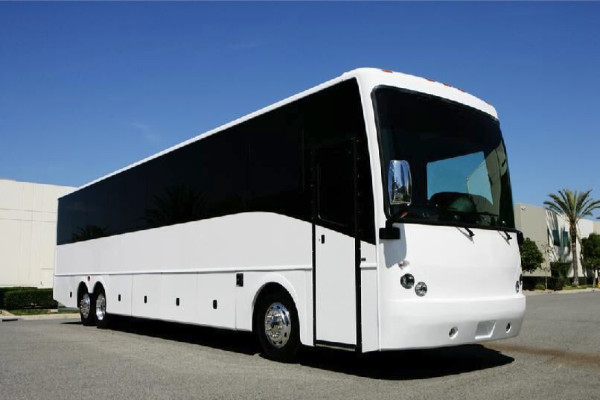 In the 1950's a real estate couple purchased 2400 acres in Miami Dade County that would later become the city known today as Doral. The name comes from their combined first names Alfred and Doris-very KimYe of them, right? Nonetheless, today the city is home to over 45,000 residents. With its proximity to Miami, Doral is the same cultural and eclectic mix of people, art, and cuisine. No matter how many passengers or the type of event we have the perfect charter buses, for you and your group! No matter your reason for visiting, be it business or pleasure, We have your transportation needs covered. For groups both large and small, our buses offer comfortable rides and our customer service is some of the best in the industry. When you choose us, you are choosing quality and expertise in travel for Doral and the surrounding areas.
Charter Bus Rentals
35 Passenger Charter Bus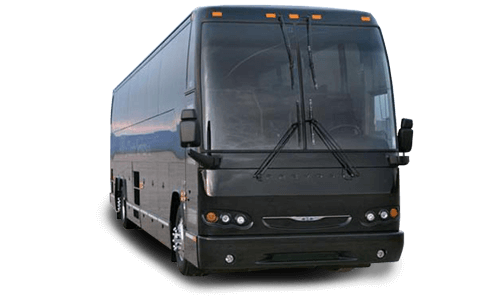 40 Passenger Charter Bus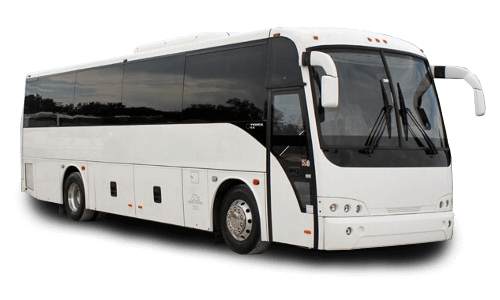 50 Passenger Charter Bus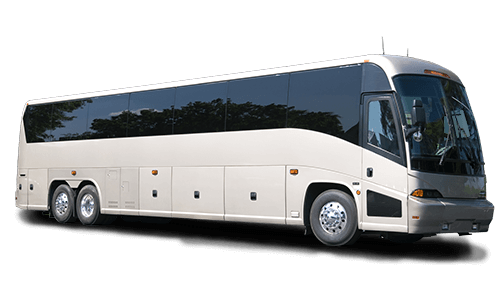 56 Passenger Charter Bus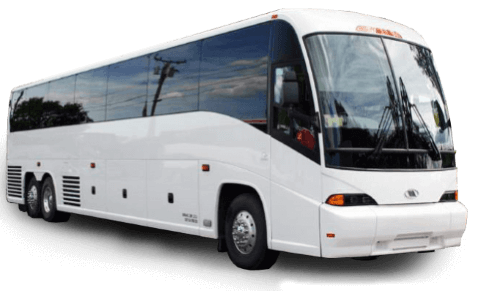 Doral Charter Bus Services
Group Transportation Services
Sports Team Transportation
55+ Senior Group Transportation
Contact Us - Free Instant Quote!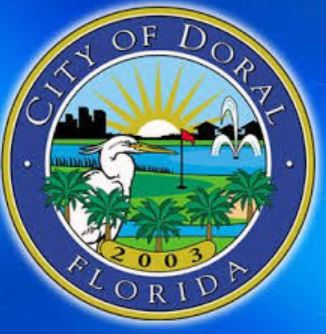 Doral is considered one of the premier places to live and work in south Florida. It has also been voted as one of the best places to start a business, making it a hotbed of entrepreneurial activity. Like its neighbor Miami, Doral is located in Miami-Dade County and is conveniently just a mile from the city's international airport. It is a short distance from many of Florida's most popular tourist destinations, including beaches, national parks, and historical sites.
Doral Popular Attractions
M.I.A. Beer Company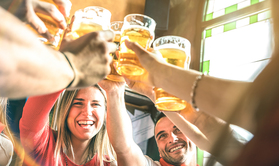 M.I.A. Beer Company is a local craft brewery and taproom that has its products distributed in a variety of states and a number of foreign countries. That says a lot about the quality of their beers considering the fierce competition in the ever-expanding microbrew world. The philosophy of M.I.A. is rooted in sticking to the basics. This is achieved using traditional recipes and high-quality ingredients. They also pride themselves on their innovation and use of often overlooked elements, which give many of their beers unique character and flavor. For something especially cutting edge, we suggest their HRD WTR adult beverage with a twist.
Address: 10400 NW 33rd St #150, Doral, FL 33172
Doral Central Park
If you would like to take a leisurely stroll in the park to burn off some of those beer calories, head on over to the Doral Central Park. With a span of more than 80 acres, Doral's Central Park is the city's largest. It is also one of its premier recreation destinations, especially for its 4th of July festivities and annual Food and Wine Festival. The pleasant mix of wide-open spaces, treed areas, and a beautiful lake, ensure that there is just about always something going on in the park; if there's not, it's the perfect place for a relaxing stroll, a picnic, or an afternoon with a thermos full of margaritas and a good book.
Address:
3000 NW 87th Ave, Doral, FL 33172
Venetian Pool
Another such spot is the Venetian Pool in Coral Gables. Since the mid-'20s, it has been a drawing crowds to its Mediterranean inspired facility. It is the only one of its kind in the country included on the National Register of Historic Places. Though once primarily the domain of movie stars and other fabulously wealthy individuals, the pools are now a little less exclusive. Comprised of more than 800,000 gallons of water that flows from artesian wells, the grounds include a cave and waterfall amid a tropical rainforest atmosphere. Do not expect warm water because you will not find any. What you will find is a cool café with lots of tasty choices and everything else you will need.
Address:
2701 De Soto Blvd, Coral Gables, FL 33134
CityPlace Doral
Boasting its own winery, bakery, gourmet burger restaurant, and martini bar, CityPlace Doral has burst onto the scene. Though it has only been open since late 2017, it has already attracted a loyal following. A popular place to celebrate happy hour, there is a bowling alley, movie theater, and a variety of restaurant and shopping options to fit most tastes and budgets. A few of the most popular restaurants include covered outdoor seating, so if it is not too hot, they are perfect places to relax with a friend, a drink, and a tasty appetizer, especially in the twilight time.
Address:
8300 NW 36th St, Doral, FL 33166
Pérez Art Museum Miami
Founded in the mid-'80s and known for its collection of contemporary art with several international influences, Pérez Art Museum Miami is located on Biscayne Boulevard. It is one of those must-see destinations for lovers of fine art. If you are looking for a traditional and stuffy museum full of faded oil paintings from centuries past, this isn't for you. But with outdoor garden areas, plenty of covered seating, and facilities designed by a world-famous architectural firm, you may find it is a pleasant departure from that to which you are accustomed.
Address:
1103 Biscayne Blvd, Miami, FL 33132
Morgan Levy Park
Morgan Levy Park is an amenity-packed destination located on NW 102nd Avenue in Doral. It is close to the downtown area. Though the hours vary slightly from the week to the weekend, it is open every day from morning until night. The park is most well-known for its soccer fields that can draw surprisingly large crowds during the season. It also has a playground, five tennis courts, a few sand volleyball courts, covered gazebos, and a walking trail. Be assured that finding ways to fill your time will not be an issue. For those who have had their fill of the great outdoors, there is a community center that offers indoor activities as well.
Address:
5300 NW 102nd Ave, Doral, FL 33178
Cubaocho Museum and Performing Arts Center
With an eclectic mix of books and artwork in addition to a full bar and a museum, the Cubaocho Museum and Performing Arts Center is one of those distinct and unique Florida destinations that should not be passed up. Located in Miami's Little Havana neighborhood, it is the local venue of choice for those interested in socializing, taking in a show, and sipping a world-class mojito or two. For those out of town visitors from the more traditional parts of the country, forget everything you think you know about a performing arts center. This is truly a unique and once in a lifetime time experience.
Address:
1465 SW 8th St #106, Miami, FL 33135
Vizcaya Museum and Gardens
Dating back more than a century, Villa Vizcaya, which is now the centerpiece for the Vizcaya Museum and Gardens was once the winter retreat of a wealthy family who made their money in the heavy equipment industry. The museum and gardens are in Miami's Coconut Grove neighborhood. The facility offers a variety of program and tour options. Casual photography is allowed, however commercial photography requires special permission. Be sure to wear comfortable shoes as the grounds are quite extensive.
Address:
3251 S Miami Ave, Miami, FL 33129
World Erotic Art Museum
Despite its name and the implication implied therein, the World Erotic Art Museum is inoffensive and enlightening to most visitors. Founded in 2005 and including a vast collection of over 4,000 works of notable erotic art this attraction may not be Florida's most-family friendly attraction, but it is certainly not what most visitors expect. That makes this stop on of those pleasantly surprising places that sticks in most guest's minds long after they have gone. Boasted as being one of the largest and most complete collections of its kind in the world, in many ways, it is the perfect complement to Miami's risqué and carefree aura.
Address:
1205 Washington Ave, Miami Beach, FL 33139
Lock and Load Miami
One visit to Lock and Load Miami and most guests feel like they are on set of Scarface or Miami Vice. Even for those who find firearms intimidating, Lock and Load offers a package appropriate for everyone. No matter which of the options you and your travel companions choose, you will get a thorough safety orientation by a qualified professional to ensure that you have a mishap-free, exhilarating, and unforgettable experience. Fully automatic machine guns are the stars of the show. Handgun options are available as well.
Address:
2545 N Miami Ave, Miami, FL 33127
Bayside Marketplace
If a unique shopping experience is what you crave, then Bayside Marketplace needs to be on your list of destinations to visit. In addition to being a marketplace as the name implies, it is a trendy destination for those looking to immerse themselves in the city's vibrant culture, rub elbows with some locals, and browse through a variety of unique products that you won't likely find elsewhere. The facility is open-air market and is spread over two stories. It is near to other popular area attractions like Bayfront Park and American Airlines Arena. Many of the marketplace's restaurants are well-known for their fresh food and unique settings. They are the perfect places to fill-up before heading out on a twilight bay cruise.
Address:
401 Biscayne Blvd, Miami, FL 33132
The cuisine of Doral is reflective of its citizens ethnicity, diverse. Cuban, Haitian, and Jamaican fare can be found throughout the city along with traditional American favorites.
Doral Charter Bus Rentals
40 Passenger Charter Bus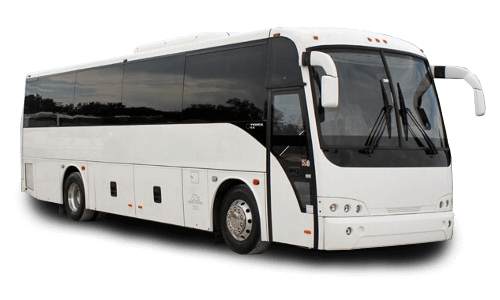 56 Passenger Charter Bus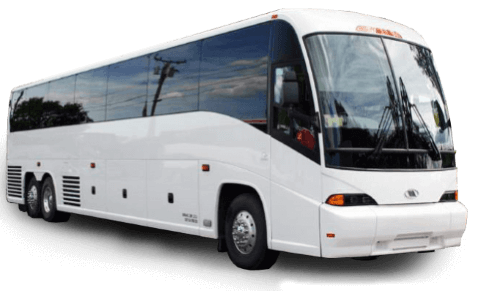 No matter what it is you want to do, We can provide comfortable and stylish transportation. We pride ourselves in making the process of procuring transportation, be it for business or pleasure, simple and convenient. Our online quotes and reservation staff make this a reality. Our wide selection of charter buses, shuttle buses, and minibuses can accommodate groups from 20 to 50 plus passengers. We have a wide selection of colors and styles available as well. Do not let transportation worries keep you from enjoying your stay in Doral. We will get you where you want to go safely and comfortably. Sit back and relax and enjoy the ride! We hope to see you soon!
---
Charter Bus Rental FAQ
How much does it cost to rent a charter bus?
Typically a charter bus rental can average $160 per hour to $200 per hour depending on many factors such as number of passengers and trip length.
How many people can you fit in a charter bus?
Charter Buses come in many different sizes from 50 passenger to 65 passengers.
How to rent a charter bus?
Renting a charter bus is a simple process that begins with a phone call. Contact us today for a free estimate on your trip.
Where can you take a charter Bus?
A Charter Bus is the perfect method of transportation for larger groups. Most Charter Buses can travel to stadiums, national parks, amusement parks, and much more!
35 Passenger Charter Bus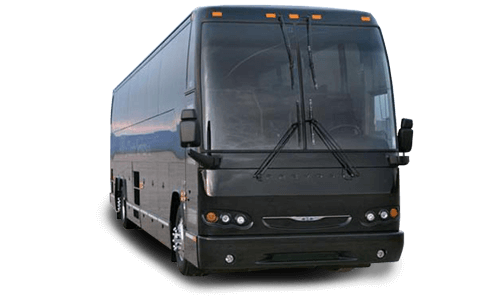 40 Passenger Charter Bus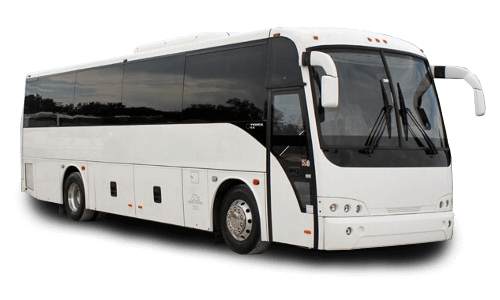 50 Passenger Charter Bus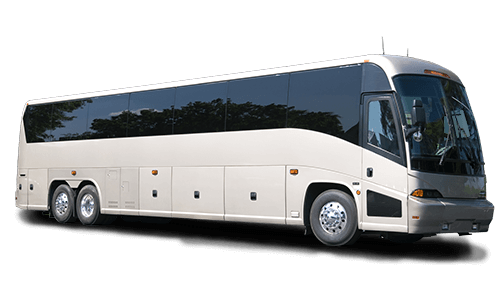 56 Passenger Charter Bus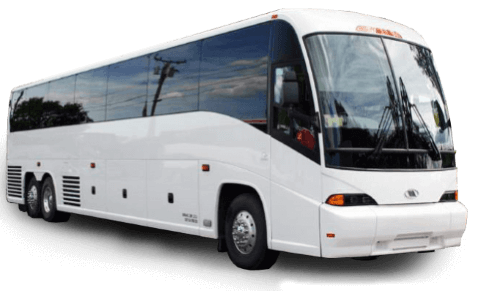 Doral Charter Bus Pricing
| Vehicle Type | Vehicle Passengers | Hourly Rates* |
| --- | --- | --- |
| 50 Passenger Charter Bus | Up To 50 | $130-$180 |
| 55 Passenger Charter Bus | Up To 55 | $180-$230 |
| 56 Passenger Charter Bus | Up To 56 | $230-$280 |
| 60 Passenger Charter Bus | Up To 60 | $280-$400 |