How Much Does It Cost For A Party Bus?
A Party Bus can range in price based on your needs. Sometimes it's even more effective to get a party bus than a limo, as it seats more passengers. A common rate for party bus is $90 to $250 an hour depending on how many people you plan to bring, pick up and drop off location.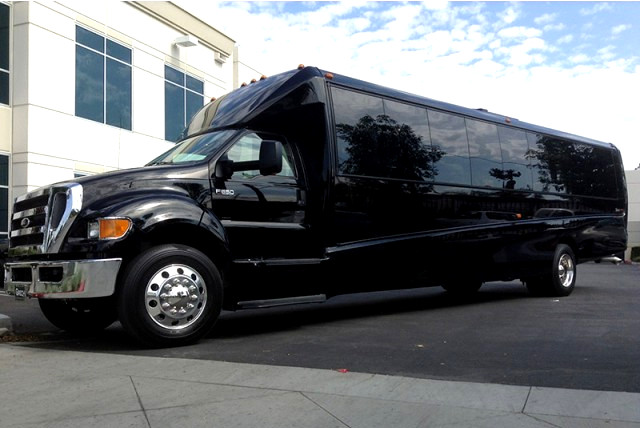 | Vehicle Type | Vehicle Passengers | Hourly Rates* |
| --- | --- | --- |
| 8 Passenger Limo | Up To 8 | $120-$235 |
| 10 Passenger Limo | Up To 10 | $130-$245 |
| 15 Passenger Limo | Up To 15 | $145-$255 |
| 20 Passenger Limo | Up To 20 | $165-$285 |
| 18 Passenger Party Bus | Up To 18 | $185-$300 |
| 20 Passenger Party Bus | Up To 20 | $200-$320 |
| 22 Passenger Party Bus | Up To 22 | $220-$340 |
| 25 Passenger Party Bus | Up To 25 | $240-$320 |
| 50 Passenger Charter Bus | Up To 50 | $260-$300 |
| 56 Passenger Charter Bus | Up To 56 | $200-$400 |
| 36 Passenger Shuttle Bus | Up To 36 | $150-$300 |
| 40 Person Shuttle Bus | Up To 40 | $150-$300 |
What is a Party Bus?
You have a couple options when thinking about a party bus, you can get a Party Bus or a Limo. Both types of vehicles are great options as they can seat from (10 people) to large groups (40-50 people). The party bus is very much like a limo, the driver becomes your own personal chauffeur. There is an array of different types of cars to suit your different taste and the mood for your overall event. Pick and choose whatever style, color and feel you want for your car and have a fun time with your friends and loved ones.
How many people fit in a party bus?
When planning to book a party bus, there are many options to seeing what best fits your needs. There is different kinds and different sizes of vehicles such as a Party Bus, Charter Bus, or a Limousine to safely and comfortably transport your group to your event. A normal sized Party Bus can seat anywhere from 12 to 28 passengers. However, a Limousine or SUV is ideal for 6-12 passengers
Where to go on a party bus?
School Events
Weddings
Birthday Parties
Prom
Night Out With the girls.
Bachelor/Bachelorette Party
Corporate Events
Sporting Events
How much do you tip a limo driver?
When thinking about what to tip your limo driver, there are few things you should keep in mind. To start, think about how was the overall service, timeliness, or the condition of the vehicle you received. A good rule of thumb is to tip about 20% of the price, if the service was overall a great experience.
What size and what type of Party Bus should I get?
When planning to book a party bus, there are many options to seeing what best fits your needs. There is different kinds and different sizes of vehicles such as a Party Bus, Charter Bus, or a Limousine to safely and comfortably transport your group to your event. A normal sized Party Bus can seat anywhere from 12 to 28 passengers. However, a Limousine or SUV is ideal for 6-12 passengers
How old do you have to be to be in a party bus?
If the trip is a nighttime bar event, everyone on the bus must be 21 years of age. The only exceptions are when we are going somewhere that the people under the age of 21 can get into.
How Much Is a Limo Rental?
There are a few factors that determine the cost of renting a limo or bus in Fort Lauderdale: The type of vehicle you choose. You can choose from several different types of vehicles, including SUVs and vans. These come with their own price tags, but you'll also have to pay for things like gas and tolls. How long you rent the vehicle for. Short-term rentals may be more affordable than longer ones. For example, renting a stretch Hummer limo for two hours will likely cost less than doing so for five hours or more!
What Are People Saying About Limos in Fort Lauderdale?
One of the most common reasons that people rent limos is for special occasions, such as weddings and birthdays. The year before I was born, my parents rented a limo to take me and my siblings to our first prom. It was awesome! Another popular reason for renting a limo is for bachelor/bachelorette parties. If you're planning one of these types of events, it's best to go with someone who knows what they're doing—that way you won't have any problems along the way or be left stranded somewhere unexpectedly. Finally, another key reason why people rent out limos when they don't own their own: convenience! When you are traveling in large groups or even just with one person who doesn't like driving (or doesn't know how), having your own vehicle can be difficult if not impossible at times; but with a private driver at your disposal 24 hours per day every day right there when you need them most? Well then maybe it's time we took another look at this whole car ownership thing again…
What Vehicles Do You Offer for Hire?
We offer a wide range of vehicles to suit your needs. From the luxury sedans and SUVs that make up our fleet, to the party buses and shuttle buses that can take you to all kinds of events, you'll find what you need here at Limo Fort Lauderdale. Our limousine selection includes: Luxury Sedans – Our luxurious sedans come in several different sizes, ranging from the classic Lincoln Town Car (perfect for short trips) to our full-size Chrysler 300 Limo or Chrysler 300M Limo (ideal for larger groups). Party Bus – Our party bus rentals come with seating for up to 24 passengers, making them ideal for bachelor/bachelorette parties, birthdays and other social occasions. They also include features like LCD TVs and CD players so there's no shortage of entertainment options onboard! Shuttle Bus – Whether travelling alone or with large groups of people, our shuttle bus rentals are spacious enough for everyone on board while still being easy on your wallet!
How Do I Set up a Custom Charter Bus Rental to Fort Lauderdale?
It's easy to book a private charter bus rental to Fort Lauderdale. Simply fill out the reservation form on our website, or call us and one of our friendly staff members will be happy to assist you in making arrangements for your trip to Fort Lauderdale. You can also visit one of our offices in person if you prefer to talk with someone face-to-face.
What Are Your Rates?
Limo rental rates depend on a number of factors. Whether you're looking for a sedan, SUV or limo, the price will vary depending on the vehicle type and number of passengers. Some vehicles have different rates depending on how far they have to travel as well. Read below for more information about pricing: The price is listed on our website with all fees included, We offer discounts for booking in advance, There are special promotions available to first-time customers.
How Much Is It to Rent a Party Bus in Florida?
It's hard to say, because there are so many variables. The price depends on the size of the bus you want to rent, how long you need it for and where you're going. To get an estimate of what renting a party bus would cost for your specific route and timing, fill out our form below:
What Are the Prices for Bus Rentals?
The prices for bus rentals vary depending on the size of the bus and its amenities, as well as how many passengers will be on board. For example, a passenger capacity of 15 people would cost less than a 40-passenger coach. This is because larger buses are more expensive to operate and maintain. Another factor is how far you plan to drive in Florida's largest city. A journey from Fort Lauderdale's Cruise Port Terminal to Miami International Airport may cost less than one that travels across South Beach through downtown Miami during peak season (December through March).
How Far in Advance Do I Need to Make a Reservation?
The amount of time you should reserve the limousine depends on your needs. If you are looking for a party bus for bachelor or bachelorette parties, then it is recommended that you make your reservation as soon as possible. You will want to book your limo rental in advance so that there is no chance of not getting one at all.However, if you are just planning on renting a car service to drive you from place to place throughout the day, then it is okay to wait until the last minute before booking your ride. Most companies allow customers to book their vehicles up until 24 hours before their trip date and time starts. So how far in advance should I reserve my limo? We recommend booking with us at least 48 hours prior – this gives us enough time to confirm availability and get back with you with any questions or concerns!
What Is the Largest Size Party Bus?
The largest party bus can accommodate up to 50 people. This is great if you have a big family or group that wants to go on a road trip together. There are also smaller party buses in the range of 25-35 passengers, which are perfect for bachelor parties and other large gatherings.
What Is a Private Ride?
A private ride is exactly what it sounds like: a one-to-one experience. You can choose the vehicle, the driver (or chauffeur), and even the route. You can have a private party or just a ride. It's all up to you! It's important to note that our private rides are not limousine services. This means they aren't pre-arranged, they're not reserved ahead of time and they don't come with any predetermined routes or stops along the way (unless otherwise specified). In fact, most of our customers prefer this flexibility so they can customize their trip to suit their needs at the moment.
What Is Your Service Area?
Our service area includes all of South Florida, including Miami Beach, Fort Lauderdale, Deerfield Beach and Boca Raton.
How Much Do Limos Cost in Fort Lauderdale?
The cost of a limo or bus rental in Fort Lauderdale depends on a variety of factors. The number of passengers will affect the price, as will the duration and distance traveled. If you need transportation for an event at a certain time, you may have to pay extra for this service. There are also additional charges if the vehicle needs to wait around during parking before departure or upon arrival at your destination. The average cost is usually between $70-$120 per hour per vehicle with multiple stops, depending on what type of sedan or SUV you choose (see below).
Can You Just Drive Around in a Party Bus?
Yes, you can just drive around in a party bus. When you rent a party bus, you get to be in control! You can drive around and do whatever you want with your friends and family. Party buses are great for bachelor parties, bachelorette parties, birthday parties, and more!